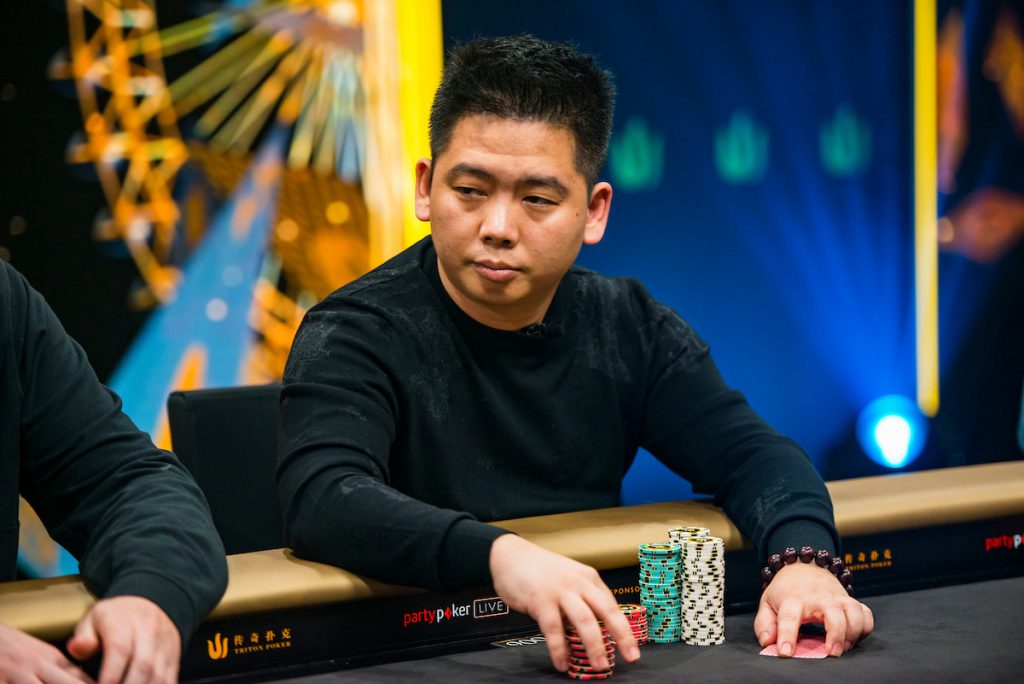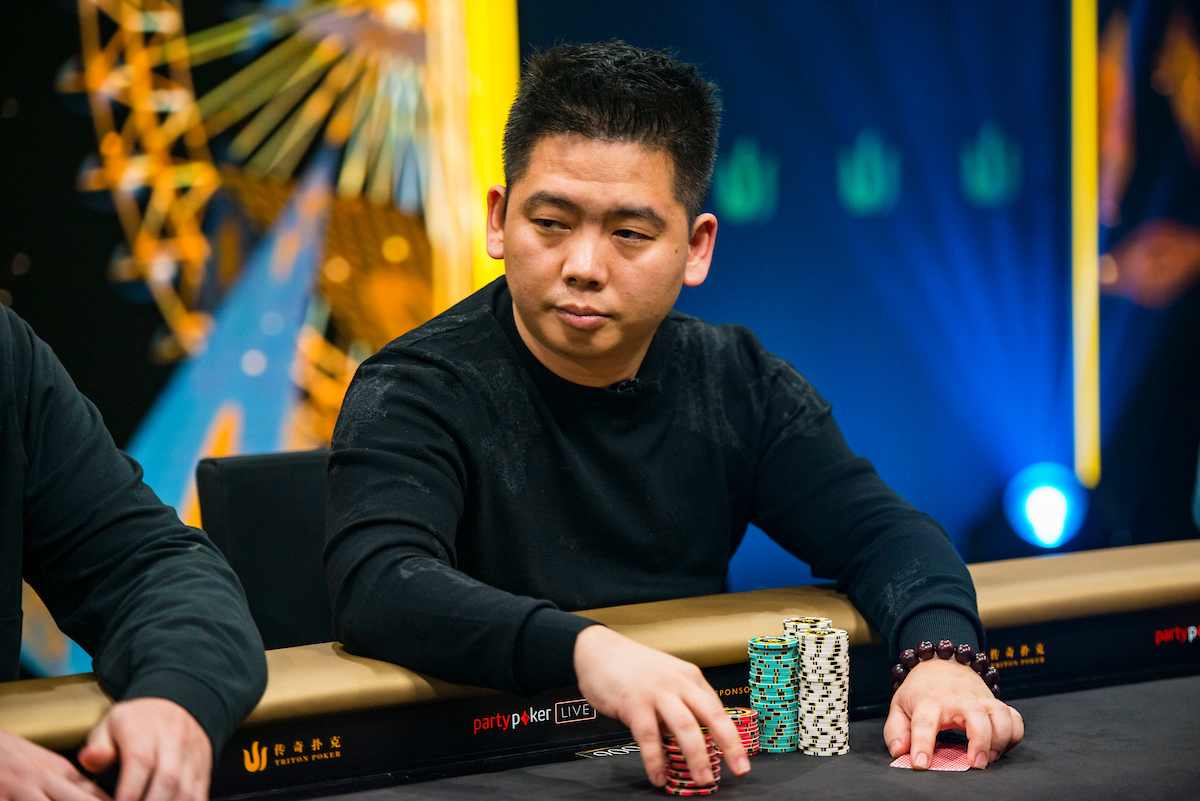 Being in the presence of Tan Xuan puts you at ease. The natural sense of relaxation you see when he sits at the poker table follows him into life. It's not that Xuan's impervious to challenges – he has them, but his demeanour creates an easier leap. He is not flashy. He slides closer to the introversion end of the scale, and while he never foresaw his poker destiny, his key ideal was to be there, fully-prepared for when it happened.  
And it happened.
Xuan is a stick of dynamite on the poker table. Meeting him, he looks immaculate; not a single hair out of place. Then he opens his mouth, and the contrast is startling as he talks in an eclectic mix of Hubei dialect and clumsy Mandarin. You can tell that he finds it uneasy to talk about himself, and the life that revolves around him until you talk about poker. Turn your attention to the table, and he cranes that neck forward and blossoms. 
Poker's standard 'Hero's Journey' doesn't fit into the Tan Xuan model. 
There is no 'rags to riches' tale.
He was born a boss.
After graduating from college in 2009, Xuan bought an art and dance school. The incumbents of both affectionately named him 'President Tan.' Later, Xuan would shift his focus from the arts to other more robust ways of making money, first entering the steel industry and then the financial arena. In the eyes of his peers, Xuan had a perfect life in his homestead of Wuhan. While people packed like sardines on the local bus commute, Tan hired a driver to get him from A to B. That A to B had begun netting him between 2 and 3 million yuan, per annum. 
The Love Affair With Poker
The love affair with poker began in 2014.
"A friend played in the biggest poker club in Wuhan," said Xuan. "One day, he asked me to join him. When I walked in for the first time, it was an eye-opener. It reminded me of watching the Macau casinos depicted in the movies, and I will always remember hearing the grasshopper chirp of the chips for the first time. 
I used to watch 'Show Hand' on TV, and I felt poker was similar. I was far too overconfident at first. After playing two games, they suggested that I watch the 25/50 cash game. I got involved immediately, and by the end of my first session I had lost 20,000. Still, poker hooked me, and the next day I returned, and lost another 70,000. I became addicted, and spent the next two months playing and losing, daily." 
Soon, the game not only revolved around Xuan, but the poker room set up a second table where people could play, waiting for an opportunity to take a bite at the newest whale! Five months after jumping into bed with the game he loves so much, Xuan had lost close to 20 million yuan (USD 2.8m).
"Newborn calves are not afraid of tigers," said Xuan nonchalantly. "I just figured that I was running bad. Then I started asking myself, "how could I lose every session?" It was at this time that I started to analyze my game. You have to realize that when I started playing poker, I thought it was 70% luck and 30% skill. It took me a long time to realize that skill is the determining factor."
Financial Concerns
At the same time, Xuan began realizing that poker was predominantly a game of skill; the profitability of his businesses began to suffer. 
"There was a business that I did together with my friends," Xuan shared. "I made money, but before I got the money, a leader was caught, and I couldn't receive the money. I took it on my own and put my money on it. The cash flow gap became bigger. However, I was not a businessman with a greedy copper stink. I only earned what I should have. I would not harm people or friends anyway."
In just a few months, Xuan lost tens of millions of his fortune. 
Xuan's father is a cadre of the Education Ministry and a very strict parent. When he found out that Xuan played poker, he was disgusted at the thought and heavily opposed to the idea. 
"When I was a kid, I loved games," said Xuan. "Give me a ball, and I would play with it. Give me cards, and I played them well, too. My parents knew that playing cards can lead to either big wins or big losses. But when that child grows up, their parents can't control him anymore. I used to sneak out and play even when they forbade it."
The Turning Point
In 2015, understanding the skill-edge of the game, Xuan began monitoring the top players, not only in Wuhan but around the world. 
"I started to follow the top players in Wuhan at that time, learning the skills while watching poker games," said Xuan. "At that time, I watched videos of Tom Dwan and Phil Ivey playing high stakes, especially the high stakes poker series. When I watched it, I thought the way Dwan played, the values, and the amount he put in the pot trying to bluff were similar to my style and way of thinking. Then I began to think such top players were just so-so; I no longer felt that we had a wide gap in poker skills.
"Later, I watched the high stakes online series I, series II, series III to series VII. I saw them all in pieces. At that time, I was able to learn some things. I don't know how much I got. I had no concept of capital management. I often played a game with all the money I had. For example, it needs 2 million or 3 million for this event, but all I've had is 2 million or 3 million. I never thought what would happen if I lost, because I always thought I would win."
After a year of studying the game more intensely, Xuan went to Shenzhen to play with friends. During that year, he practised his skills and progressed fast. It became the happiest period in his poker career.
"At that time I played a 200/400 game, and it was fierce," said Xuan. "People were winning or losing a million in a single game. I was also aware of the concept of bankroll. The game consisted of 100% Chinese players. The action was magical, and there were plenty of battles. A few professionals from Yongli Casino in Macau suffered big losses and thought we had rigged the game. But we all know it's a regular game after playing for so long. But all kinds of magical actions like 3 bet /4 bet and so on, they were beaten, and confused – they all lost in that game.
"Some people say that I am highly gifted. I don't know. I think I play well at every stage. But after this stage, when you recall the previous stage, you find that there are many shortcomings and leaks in the past. People said my progress was the fastest and the biggest.
Now things have become natural to me. After playing games, the brain will automatically go back to review the previous scene and so on. It has become a habit. There's no need for things like note-taking. Naturally, you can make progress after playing this game. I don't know why."
Life After The 'Magical' Game
The magical game in Shenzhen eventually died, and Xuan travelled to Xi'an to compete in a 2000/4000 game, which was big for him at the time. Still, the size of the games has never affected Xuan.
"I play a lot better than the average person, that is, the level doesn't affect me, even if it suddenly rises ten levels, it's still the same for me." Said Xuan.
"When I play cards, I either lose the most or win the most," said Xuan referring to his loose-aggressive style. "I will try to maximize all losses and values. For example, if I play 5000 / 10000, if I play this hand with players like Su Hao, he may lose only 100,000 in his style, and I may lose 1 million in my manner. Similarly, the average person with this hand may win 100k or 200k. Instead, when I'm in the lead, I put my opponent in and empty all his chips at one time. I can win one million and two million. I've always played this way, whether it's 25 / 50 or 2000 / 4000, or even bigger; I just like to tangle with big bosses. "
On Playing The Game
Xuan graduated quickly and soon rose through the cash game ranks competing in games where winning or losing millions of dollars is the norm. During his trials and tribulations, there is one thing about the game that irks Xuan, and that's the 'quiet people' at the poker table, and he's not talking about their use of the vernacular.
"It doesn't matter whether you speak at the table or not," said Xuan. "The deck has its own language. Your action in each round is a story."
Mathematics forms part of that story, but it's not a plotline that Xuan pays too much attention too. 
"I think the calculation of odds is the most basic thing," said Xuan. "People who can play cards are generally clear about the odds of win and the loss. Everyone is saying that foreigners do well in math, that is to say, they are more accurate. For example, if a card has a roughly winning rate of 58%, then I can calculate between 55 and 60. I'm just talking about a general winning rate. I won't say how accurate it is, but I know about it. For example, a pair to an AA, that's about 18%, that's it. So I don't know how important mathematics is in playing cards. There must be some basic mathematics, but we all know basic mathematics.
"As far as I'm concerned, the difference between playing well and playing poorly lies in the comprehensive judgment of all aspects of the game. First of all, what kind of action each hand should take in different positions. That is, what kind of cards you should play before the flop, and then how to play in different positions. Then go in and face the flop. After you finish your action, no matter whether you are checking, betting or raising, you need to guess what actions others will take after each action.
"Each round like a flop, turn and the river will make other people's cards show slowly and clearly. When you know what cards the other player is holding, you can try to win the pot with a suitable strategy. If you're right, you win the other side's chips, and you also win when you lose fewer chips. When you read your opponents' card, you know that you can't bluff him or beat him at this time, you can give up, and it can be counted as a victory. When you think he can be hung and beaten by you, and then you can win the chips and make him unable to run, this is the maximum value.
"Then it is to play against the opponent's style that some of your actions or some kind of betting chips can make him feel that this card is very strange, illogical. This can confuse him and let him fall into your trap, so as to achieve what you wanted. There is also some mind-reading, some habit learning, yeah? All of those mentioned are very important. Poker is not merely a math problem."
"Maybe math is useful to less than 100 BB. You play for a long time according to the mathematical probability, and it will be + EV. But beyond 100 BB, EQ and reading quotient also serve for certain functions in card playing. Foreigners lack this thing. They have advantages in one aspect, but on the other, they may not be better than Chinese people. Anyway, I don't think foreigners play much better than Chinese people when all aspects are combined. At the 2000 / 4000 level or above, Chinese professionals are not afraid of foreign professionals, and foreigners can't take advantage of Chinese opponents as well.
"A poker player must have confidence, when you play at a table, just imagine others are fish. That's how I am. I have to be confident to play well. It can't be said to treat them as fish, I will respect every opponent, but I will think that I am better than you, I can hold you down, to play a good game. In China, there are Zang, Abu, Luo, Su Hao, YC, TJ and Elton who play well. In foreign countries, there are Jungleman, Trueteller and Holz who rarely plays cash. Dwan and Ivey play more Short-deck.
"Those who play well are professionals. They don't agree with each other. Except Su Hao, he thinks foreigners do play better. Others, including me, won't admit that they are better than themselves. "
Becoming 'Known"
In 2015, Xuan conquered a field of 1,075-entrants to win the $281,185 first prize in the China Poker Games (CPG) Main Event in Sanya. It was the second time he has competed in the CPG, and he ran hot, leading wire-to-wire. 
Suddenly, the name of Tan Xuan was up in neon lights.
"It was easy to play CPG," said Xuan. "I can steal. It's not that the opponent is weak, but that they have many leaks. When I should make a value bet, I do it well. When I should bluff them, it's easy to bluff. At that time, the players who were generally poor were numerous. 
"Being reported and becoming famous is not good for my cash game action. In fact, the relationship between the game and cash is not so big. But they'll reject me for some reason. In fact, this is a circle of interests. When he wants to exclude you, he will always find some excuses. Playing a match is the biggest, the most direct and objective reason they find, saying that you are professional. "
In 2017, the game of Short Deck became more popular throughout the Asian high-stakes scene. It was in a Short Deck tournament, the 1m HKD Short Deck event at the Triton Poker Super High Roller Series in Montenegro, where Xuan's name became associated with high stakes poker globally (Xuan lost to Jason Koon, heads-up, for the consolation prize of USD 2.8m, and Koon called him one of the best Short Deck players in the world).
Xuan became a 'boss', or did he?
"We are beginners. We are the boss. We are professionals. We are not welcome to play," said Xuan. "The definition of "boss" that we all agree with now depends on what kind of identity you are in the crowd – and on your age. The younger one is not the boss, which is a very symbolic thing, unless it is an undeniable sign, such as running a big business outside, being known by everyone, and breaking away from poker. They will admit that you are a "boss", the rest are classified as professional. "
It's not only Koon who has openly waxed lyrical on Xuan's skills on the felt. The Triton co-founder, Richard Yong, once said that Xuan is the 'complete player, with equally good skills on both short deck and hold 'em poker.'
"Short deck is easy to play," said Xuan. "I think it is on the same level as Hold 'em. Poker is like a piece of paper, once you poke it, you will suddenly realize that each kind has the similar rule. You have to be attentive, when you really indulge yourself in the game then you will get it. It's quite simple."
And outside of the game?
What does Xuan get up to when he's not playing cards?
"I'm not an otaku deep inside, but in some cases, you have to be, sometimes you can't find someone to go out with, and you don't want to be alone," said Xuan. "I'm the kind of person who prefers to be single. I don't want to date a person I don't like. A lot of people advised me to marry a virtuous wife. But marrying a wife – I don't want to buy a vase and put it at home. I just like what I like, plus my circle is relatively single, there is no chance to meet girls. My last relationship was with my first love five years ago in college.
"Usually, I would go and take care of my invested businesses. If I don't play cards in my spare time, I stay at home. Sometimes I smoke cigars and drink tea with friends. It's almost like an old man's life."
It sounds like the life of the perfect boss.